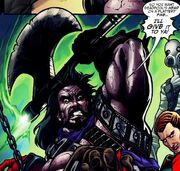 Headsman (Clevon Twain) is an old villain of
Spider-Man
and a member of the
Thunderbolts
.
Norman Osborn
taunted Headsman into killing
Deadpool
and he was about to decapitate the merc with his axe, but then a previously out Wade woke up again and a new battle began. Wade also mistook Headsman for being the Executioner, and old
X-Men
villain, which upset Headsman.

Wade and Headsman met in the following comics:
---
Ad blocker interference detected!
Wikia is a free-to-use site that makes money from advertising. We have a modified experience for viewers using ad blockers

Wikia is not accessible if you've made further modifications. Remove the custom ad blocker rule(s) and the page will load as expected.